The transformative augmented reality surgical guidance system
Precision prevents errors, reduces operating room times, and improves the patient's experience and outcome. VisAR from Novarad® is an augmented reality surgical navigation system that increases surgical accuracy and confidence. Like a surgical GPS, VisAR enables physicians to find and reach their target destination more quickly  –  without the expense, footprint, and setup time of conventional navigation systems and robots.
Advanced rendering
VisAR renders 2D, 3D, and 4D digital images from any modality into a highly detailed hologram in real-time using the Novarad Graphics Engine. Using patented virtual tool technology with an integrated targeting system, the hologram is overlaid directly and accurately onto a patient's body.
Precise registration
⦁ Optical tags
⦁ A magic wand to anatomic landmarks
⦁ AI-driven OR Fluoro / X-ray registration
⦁ Free-hand
⦁ Continuous registration
⦁ Registration status indicator
The integrated virtual targeting system
⦁ Virtual tools, guide
⦁ Dynamic alignment
⦁ Virtual distance read-out
⦁ Reticle for precise alignment
A minimal OR footprint
Using optical code alignment, cameras, and sensors, VisAR maps both the patient and the surrounding environment from above, to the side, behind or even underneath the patient using the hands-free, untethered headset of the Microsoft HoloLens 2. OR footprint is the surgeons head.
Advanced preoperative planning
Colorize target organs or annotate pathology to create semitransparent holograms of targeted anatomy. This allows for precise planning and execution of the procedure, even around difficult anatomy.
Place virtual incisions on the holographic images for precise surgery thus reducing time under anesthesia and healing.
Navigate with knowledge. Mark virtual surgical guide entrance point, trajectory, and location for endoscope or needle placement; extract a foreign body; or place a pedicle screw. Procedures can be done both under open surgery and percutaneously.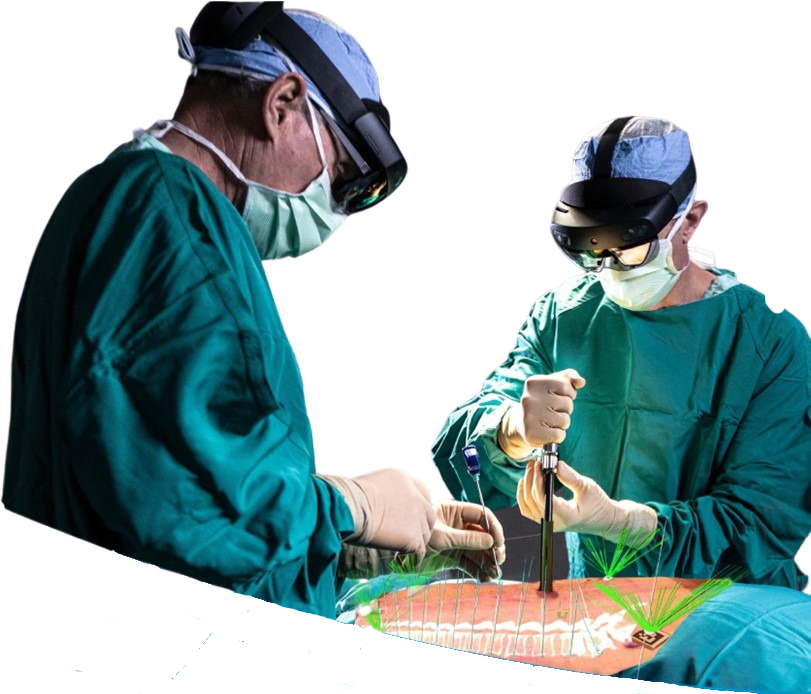 Check out VisAR in Action
The Nautilus Surgical team of professionals are here to help. Feel free to call or send a message.